Men's Health Clinic Questions and Answers
At Men's Health of Mississippi, our men's health clinic provides several different treatments and services to individuals dealing with sexual health issues and conditions in Madison, MS. For more information, please call us or request an appointment online.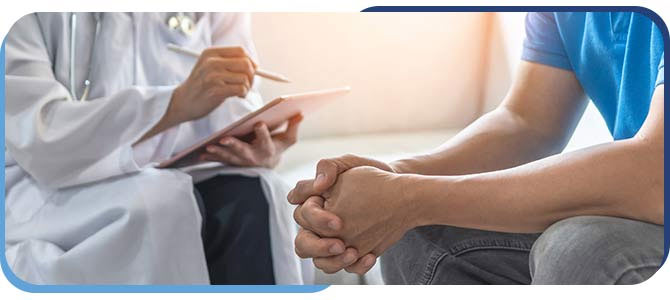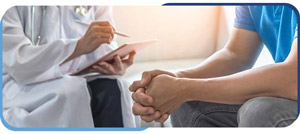 Table of Contents:
What does a men's clinic help with?
What happens at a men's clinic?
What are men's health services?
What causes a weak erection?
Health is the most important thing in every man's life, because without health, he cannot fully enjoy any other aspect of life. Men have important health needs, especially when it comes to sexual health. The male reproductive system is a sensitive group of organs that requires special care. Men's health clinics focus on addressing these needs and much more. They also have a strong emphasis on aesthetic services, including injectables, hair regrowth and body sculpting.
What does a men's clinic help with?

Men's clinics can help with many concerns that the male population may face, including low testosterone, premature ejaculation and erectile dysfunction. They can also help with aesthetic concerns, like ameliorating the signs of aging, combating hair loss and sculpting a fantastic physique. Some men's clinics also provide primary care services as well as telemedicine, which allows them to provide a more complete picture of health. At Men's Health of Mississippi, we care about each of our patient's health and strive to provide the highest level of service at each visit. To provide a more complete picture of your health, we offer the following services:

– Body Sculpting
– Botox
– Erectile Dysfunction
– Hair Regrowth
– Hair Removal
– Jeuveau Injections
– Laser Assisted Liposuction
– Low Testosterone
– Men's Health
– Performance Medicine
– Premature Ejaculation
– Primary Care
– Telemedicine
What happens at a men's clinic?

Men's health clinics specialize in services, treatments and procedures that promote male health and wellness. They work with each patient to individually address their needs and develop a treatment plan that is as unique as they are. They will review a patient's health history to get a better understanding of their health, and based on the results, they will determine which treatments are best in their unique situation. When figuring out the right treatment, it is important to look at all of the options. For example, there are many ways to treat hormone imbalances, reduced libido, low energy levels (fatigue) and sleeping problems. However, they might not all be the right one for each patient, and each must be considered before moving forward. They may also take a look at a patient's diet and exercise regimen, because when both of these are optimized, results are attained much more quickly and effectively.
What are men's health services?

Men's health comprises many different services, treatments, procedures and education, including:

– Erectile Dysfunction Exam, Treatment and Education
– Premature Ejaculation Exam, Treatment and Education
– Low Testosterone Exam, Treatment and Education
– Performance Medicine
– Primary Care
– Aesthetics
– Hair Regrowth
What causes a weak erection?

A weak erection can be caused by either physical or psychological factors, although physical causes make up the majority of cases. Physical causes include:

– Heart disease
– Clogged blood vessels (atherosclerosis)
– High cholesterol
– High blood pressure
– Diabetes
– Obesity
– Metabolic syndrome
– Parkinson's disease
– Multiple sclerosis
– Certain prescription medications
– Tobacco use
– Peyronie's disease
– Alcoholism and other forms of substance abuse
– Sleep disorders
– Treatments for prostate cancer or enlarged prostate
– Damage to the pelvic area or spine
– Low testosterone

Psychological causes include:

– Depression, anxiety or other mental health conditions
– Stress
– Relationship problems, including poor communication and stress

Men's Health of Mississippi is a trusted men's health clinic that provides a wide range of services, from sexual health to aesthetics. We pride ourselves in our ability to provide a higher level of care for each and every patient and offer a variety of healthcare services to provide a better picture of health. Call us today at (601) 440-2206 to book an appointment, or visit our clinic conveniently located at 120 Fountains Blvd #1001, Madison, MS 39110. Our men's health clinic is open Monday to Friday from 8:00 AM to 5:00 PM. We serve patients from Madison MS, Jackson MS, Flowood MS, Brandon MS, Ridgeland MS, Florence MS, Richland MS, Byram MS, Terry MS, Clinton MS, Vicksburg MS and Flora MS.